CUPCAKE! 8 Year Anniversary! [A Dark Circus Themed Dance Party]
Self.Destrukt, Betty Blackheart, DJ Plastic Disease, Sid Snow, Chromegirl
CUPCAKE! 8 YEAR ANNIVERSARY! [A DARK CIRCUS THEMED DANCE PARTY]. Saturday January 25th 2020 at The Rebel Lounge
CUPCAKE! CIRQUE BERSERK!
8 Year Anniversary!
[A Circus Themed Dance Party!]
Please join us Saturday January 25th, 2020 at The Rebel Lounge to celebrate our 8 year anniversary. It's reunion time!
We offer free parking, strong libations, immersive sound & a smoking/drinking patio.
01.25.2020 9PM-2AM · 21+ · $10
The Rebel Lounge 2303 E Indian School Rd Phoenix, Arizona 85016
ELEKTRO • INDUSTRIAL • TECHNO • (((BASS)))
CUPCAKE! resident DJs:
Self.Destrukt
Betty Blackheart
Special Guest DJs:
Plastic Disease [Lilith, Club Sanctuary Tucson]
Sid Snow
Entertainers:
Chromegirl [Das Bunker, Bondage Ball LA]
Nuke Brothers [Wasteland Weekend]
Rusty The Clown [PainProof Punks, Humpday Burlesque]
Dahlia De La Nuit - The dark flower of burlesque, award winning strip tease artist
Mistress Vivian Rose - Hide your subs
Shaken Hallow - Live art
Hosted by:
Beautiful John
Bl0nde N0ize
Lolita
Shot by Jonny
RazorSlave
Zander Buel
Xac Glover
Lauren Perry
$&M
Briana Rambo
• CUPCAKES!
• COTTON CANDY
• POPCORN
• BALLOONS
• ENTERTAINERS!
• ROAMING PHOTOGRAPHER! Jeremiah Toller
• BEST DRESSED CONTEST!
• Video by Julius Szakolczai
═══════════════════════
SUGGESTED ATTIRE:
We are a themed dance party so we encourage you to dress up in dark circus theme. Come in Fetish, Drag, Goth, ANYTHING you feel expresses who you are! (If you are a minimalist, please keep the private parts private, this is a public event) Creativity is highly encouraged. If you don't know what to wear, you can never go wrong by wearing all black.
Saturday January 25th 2020 at The Rebel Lounge
9PM - 2AM
21+
For more information please visit TheRebelLounge.com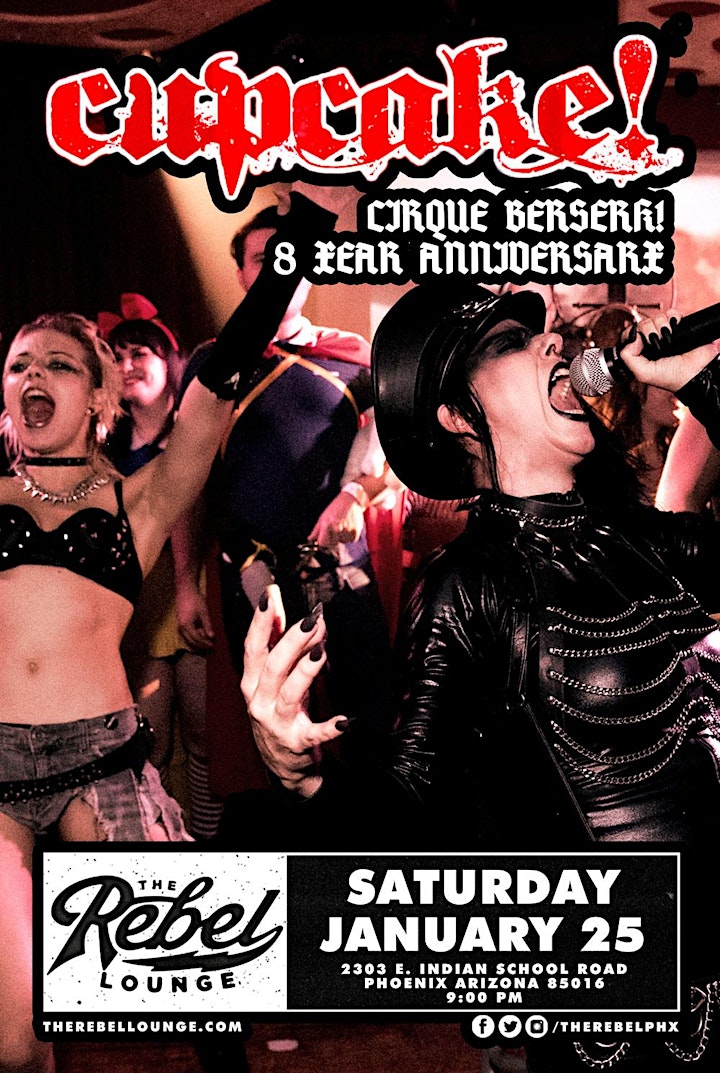 Venue Information:
The Rebel Lounge
2303 E Indian School Rd

Phoenix, AZ, 85016